Analysts at Merrill Lynch on Friday said investors appear to be capitulating with regards to bank stocks, frustrated into selling them down to levels below their real values as the credit crisis continues to wreck balance sheets. The analysts also slashed their earnings outlooks for several large regional banks and said they will continue to boost loss reserves and cut dividends.

 

From Reuters financial headlines today…
S&P may cut debt rating for Ford, GM, Chrysler

Ford cuts truck output as sales tumble

Merrill shares fall on rumors of profit warning

Market ends lower on banks, oil concerns

Analysts slash U.S. bank estimates more as credit worsens

Yahoo shares fall after reports of executive exodus

Winnebago tumbles; CEO warns on price war
We are now 5 weeks into this correction, with the DOW already -10% down from its recent rally high as shown in the chart below.  Wednesday could be a big catalyst day with Durable Goods Orders at 8:30am, Crude inventories at 10:30am, the FED announcement at 2:17pm (this is where the fun should begin…but in which direction?), and RIMM earnings after hours.  Before that, it should be a sleeper.  If the NASDAQ does not undercut early in the week, there

So let's turn our attention back to the theme of this note which is how might we know where the Line in the Sand is for two scenarios:
The Banking Index ETF, i.e, XLF holds support at the 2002 level of $18.52 or higher, finishes the capitulation and reverses to the upside.

 

This will also imply a capitulation to the Limbo Bar (Lowest High Jump) for XLF which is $18.66 and -35.4% down from the 200-dma.

 

We have a Major capitulation that borders on a crash in the Financial Markets and heads even lower to establish a New Limbo Bar Low of > -35.4% from the 200-dma.

 

Why all this excitement in using the Banking Index as the focus for understanding the degree of severity for the possibilities of this correction?
Sub-prime problems have taken their toll on Financial stocks and the Banking Index. 

What many have not realized is that the Banking Index is a fraction away from making a 100% drop down to its 2002 support levels.

The July 25 calls of 297,929 to puts of 62,653 provide a ratio of 4.8 which is a massive expectation to the upside on the XLF and Banking Index.

Daily Volume is once again showing signs of rapidly increasing with today's volume at a staggering 188,753,200 shares and a dollar volume of $4.19 Billion

Lest we get too excited, I do not expect full capitulation until this number exceeds $7 Billion, and if you don't believe me we exceeded this number on the previous Base Low when we hit $7.1 Billion on March 18, 2008, as shown in the following chart: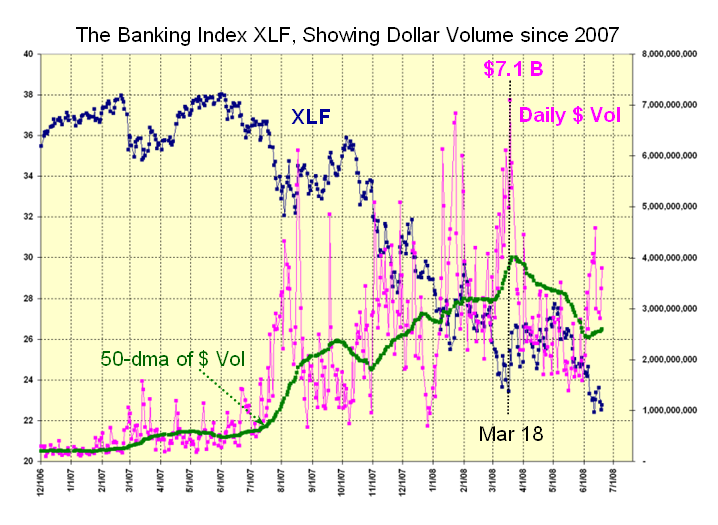 Note how there have been several attempts by the bottom fishers to find support only to capitulate and the Index head down again to find support, as it has trundled down to current low of $21.00 which it hit today: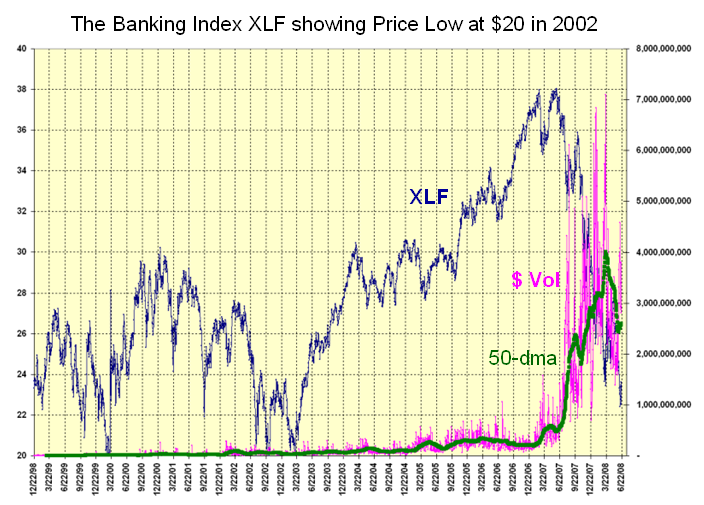 Note how the Dollar Volume has gone into oscillation in 2007-08, and that it has peaked several times above $6 Billion, so we should expect that at capitulation.  Now let's look at the Limbo Bar picture: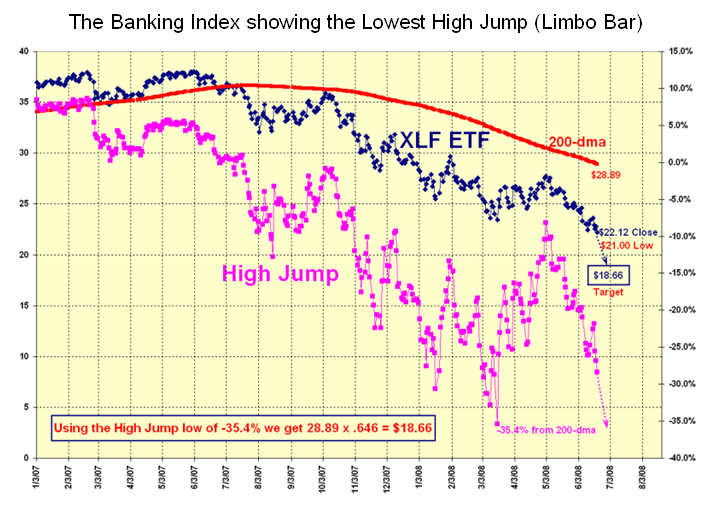 With all the financial turmoil along with the speculation in Oil no one knows where the Market will find a bottom, but at least you now have the guidelines and yardsticks to watch and measure and take action accordingly.
Best Regards, Ian.