This Stock Market is Long in the Tooth.  Be thankful for small mercies…It could have been
a lot worse if the Gloom and Doom Camp had their way last week.  After Monday's big
down day they were cock-a-hoop and then the Market turned around and here we are in
New High Territory again, with the Rally intact for now.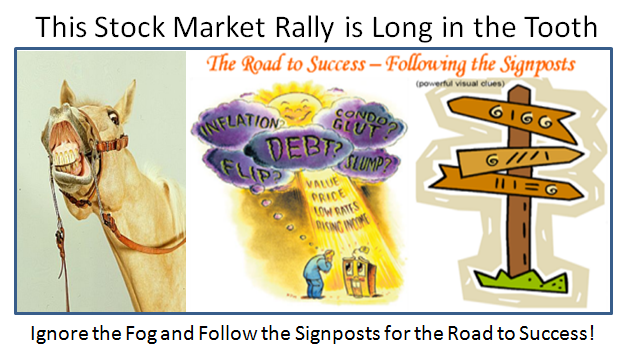 As I reminded you in a couple of blogs ago, Don't forget there are always Three Camps:
        a.  Camp Sunshine
        b.  Camp Gloom and Doom
        c.  Camp Stay Light On Your Feet
There is a time to be in each one…right now "Light Feet".  Nimble is our trump card.  Always remember that although most are wondering that there is only a narrow set of stocks of High ERG quality that are showing Leadership in a Market such as this, there is another approach to High Growth Stock Investing and that is to spy recent EARNINGS Momentum.  That coupled with the wind at your back, i.e., Wolf Packs that are moving, can provide ample opportunity for short to intermediate term gains.
I must say that I am very surprised that there is NOT ONE mention on the bb that we have had two Eurekas and umpteen Kahunas last week to understand there is still strength in this Rally.  Now of course there can be a Bull Trap as the pundits will point to a double top if the break out does not materialize and fizzles this coming week (say).  Likewise, there isn't one of us who doesn't realize that from a FUNDAMENTAL standpoint this market is running on fumes.  Also, the Junk off the bottom theme has taken hold in the minds of the thoroughbred Growth officiandos that has left them gun-shy and mainly sitting out. 
Like my good friend Aloha Mike Scott, I endorse that he said  the "HGSI software is great for  cutting to the chase quickly".  So let me cut to the chase and show you that of all things, Paper Products is the Hot Industry Group of the moment, and it seems there has been ample evidence as to why.  I will admit Paper Products is not the most glamorous of Industry Groups, but we all do understand that if you want to make money in the short to intermediate term while using our core principles, the following process helps to stiffen our backbones.  Some of the Stocks are extended, but watch the Wolf Pack for Opportunities :
1.  Is the Wind at our back…Market, Market, Market (MMM)?
2.  Which Industry Group stands out with the Rel Strength Momentum: Wolf Pack?
3.  Which stocks in the Group Have EARNINGS Strength and/or Earnings MOMENTUM?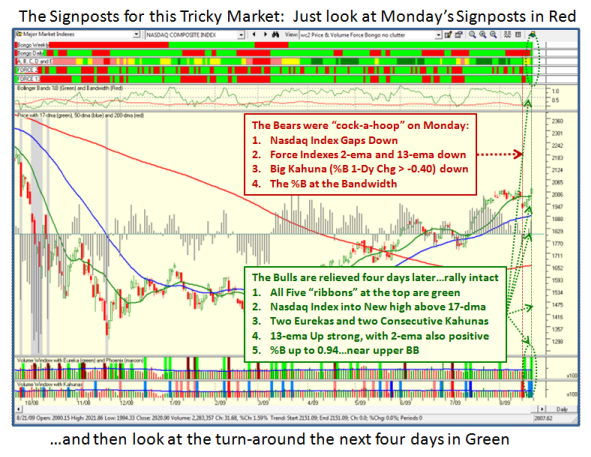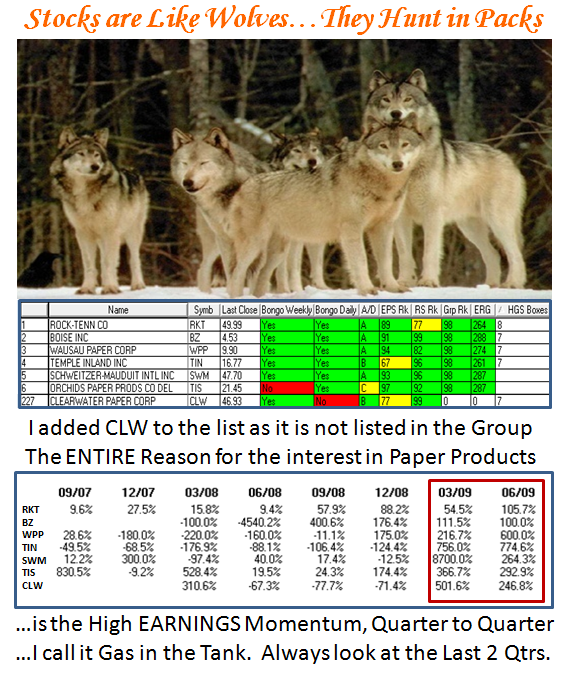 Well that is the process.  Whether this particular Group stays strong from here is to be seen and is in the lap of the gods.  At least you now know the value of "Box 7 Stocks" for finding Wolf Packs when the Growth Stocks are pausing to refresh.  It is a proprietary feature of the HGSI software.
For those who are curious as to where to find that last chart, I cut and pasted the Earnings rows for each of the stocks listed with data from the Charting Module.  This made it easy to make my point of the huge Earnings Growth in the last two quarters.  That is key.
Best Regards, Ian.