My good friend Kevin from Qatar wrote me a note and a question, so I just could not resist answering him with this caption: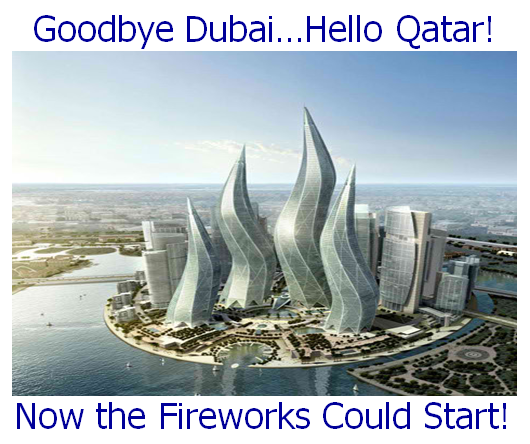 Ian, When I chart the money flow index against the market ETF's like DIA, IWM, QQQQ, MDY, and SPY, I think I am seeing negative divergences with the Money Flow Index generally peaking July 28-30 and since then a series of lower highs and lower lows (QQQQ being something of an exception).  If not broken, would it not at least indicate that the uptrend has substantially weakened?  Or maybe the better question is: What is the implication of the negative divergence?
Best regards, Kevin in Qatar
Hi Kevin: It's good to hear from you and as you correctly point out…this market is suffering from "Nasal Catarrh"…only you and I can share that joke from a year ago, with you coming from Qatar.
Ron's Weekend Movie addressed the problem of the divergences in volume these past few weeks and it certainly means that both Buyers and Sellers have pulled in their horns at this time of the year.   Part of the problem is seasonal in that the holidays and half days can throw one off, but I have noticed that this second up-leg in the rally after the June/July hiatus of a 9% correction has been a lot weaker.
It was just as well the market was closed for Thanksgiving as much of the Dubai shock was absorbed by the global markets while we enjoyed Turkey.  It was pretty obvious that the big gap down on the opening was inevitable and the mood by the time Friday came around was that this was a buying opportunity, which is essentially what happened albeit on a shortened 1/2 day to play, and hence the light volume.
None-the-less, your overall observation that the Market is generally running out of steam is correct and there is at long last an awakening by the herd that the pumping of "QE" aka, Quantitative Easing, aka, Monetization Program, aka, POMO and other such gobbledygook for Fed Speak is fast coming to a close…though there are whispers of a QE2, mind you!
To confirm what you have observed, just trot over to the last blog note I put up for Thanksgiving and you will see that the Black Swan/White Swan Scenario is petering out and I purposely drew the channel lines to show a bending of the curve.
Likewise, there is a certain rhythm to the behavior of the market these last three months where it tops around the 3rd week of the month only to find a bottom by the 1st of the month…and it looks as if we are headed that way one more time.
There is no better way to show you the underlying jitteriness of the market than to use the wide swings in %B of the Bollinger Bands for this second leg up compared to that of the first leg where the swings were all contained in the middle to upper BB's.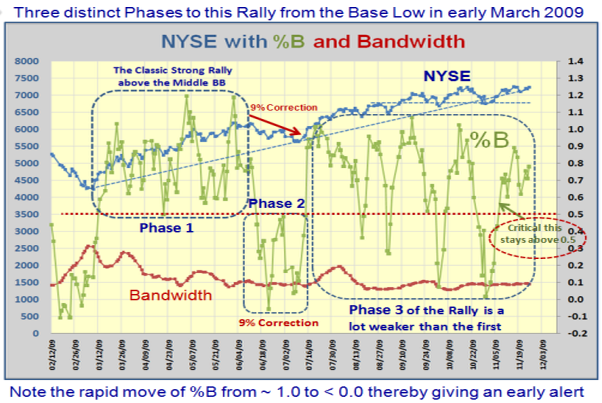 My work tells me that if we have two little and/or big Kahunas in a week followed by a third one soon thereafter that the party is over. Also, watch out for a %B reading of worse than -0.2 as that spells disaster to come.  Expect at least an initial drop of -5% to -7% in a matter of 10 to 15 calendar days.  So, you are all forewarned.
But first, the primary focus is "Let's keep the ball rolling upwards, so that we can all collect our fat bonus checks, then we will worry about the inevitable swoon…All for one and one for all"!  It will take more than a Nasal Catarrh to break this theme. 
Best Regards, Ian.