There has been a dramatic change in the "Internals" of the S&P 1500 Market Index this past couple of days.  We show a big swing in %B above 0.5 to where the ratio is now 83:17 above and below 0.5, respectively, as shown below.  I have included the top two pie charts from the previous blog just to show the big swing in two days since then :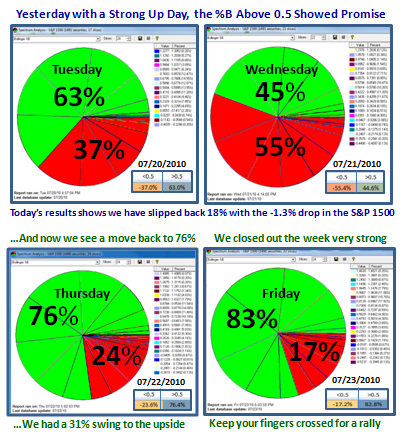 Most Market Indexes have now poked their heads above the 200-dma, but a few notables have not, namely the NYSE, S&P 500 , OEX, S&P 1500 and the Wilshire 5000.  The Nasdaq, NDX, and SOX are all sitting right at or above their declining tops line from the highs last April, so next week will be a critical week to see if the Bulls can once again gain control and start a fresh rally.   This is particularly important regarding the congestion of the moving averages at this stage and to drive them back up where Death Crosses turn once again into Golden Crosses with the 50-dma coming up through the 200-dma.
The Earnings Season is in full swing and mostly with positive surprises so this also bodes well for the coming week.  Unfortunately, the entire mood of the market is driven by "Late Breaking News" and the Dollar Index, which has been falling of late and is therefore supposedly good for the stock market.  The late breaking news is what causes the wild swings intra-day…witness the Tuesday shellacking when Helicopter Ben acknowledged that the economy remains "unusually uncertain".  By that evening the %B of the S&P 1500 stocks had shifted to a 18 point negative swoon to below 0.5, destroying the hopes for a new move up from the previous day's positive outlook.  However the moves on Thursday and Friday have confirmed the sudden rush in enthusiasm to the upside as shown by the big two-day swing on the chart above.
The VIX is once again right at its 200-dma and needs a strong nudge down to once again allay the fear factor element which has recently crept into the equation.  Since the Semiconductor Mfg. Group is the standout this earnings season along with BIDU in the Internet Service Group, here is their recent performance to give us hope for a new Rally led by Technology: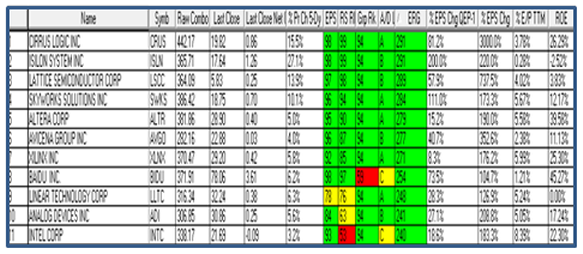 Best Regards, Ian.