With all the Fear and Uncertainty who would have thought the Market would be climbing up a Wall of Fear?  We shall see what today's Greek Elections bring and as I write this the Late Breaking News is that "Greeks Back Bailout Party, and the New Democracy is the Projected Winner".  It holds a narrow lead over antiausterity Syriza; they are expected to attempt to form parliamentary coalition, possibly with socialist PASOK party, projected to finish third.  Such a coalition could ease global tensions  by accepting bailout austerity, staying in euro zone.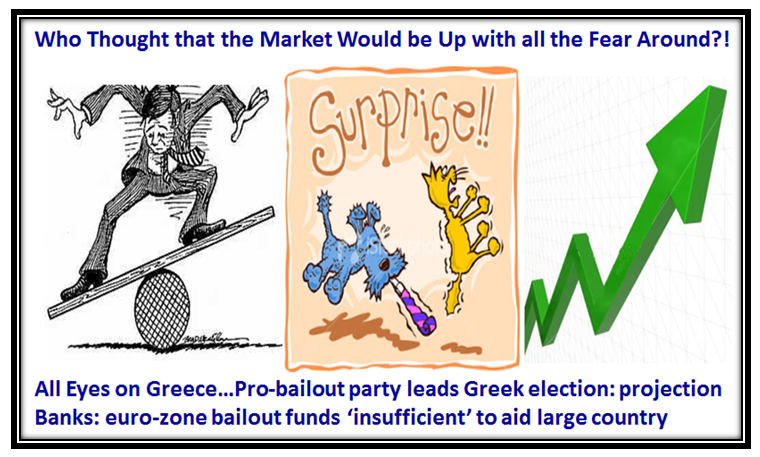 The Market Indexes finished strong on Friday despite Options Expiration and all the uncertainty swirling from Europe.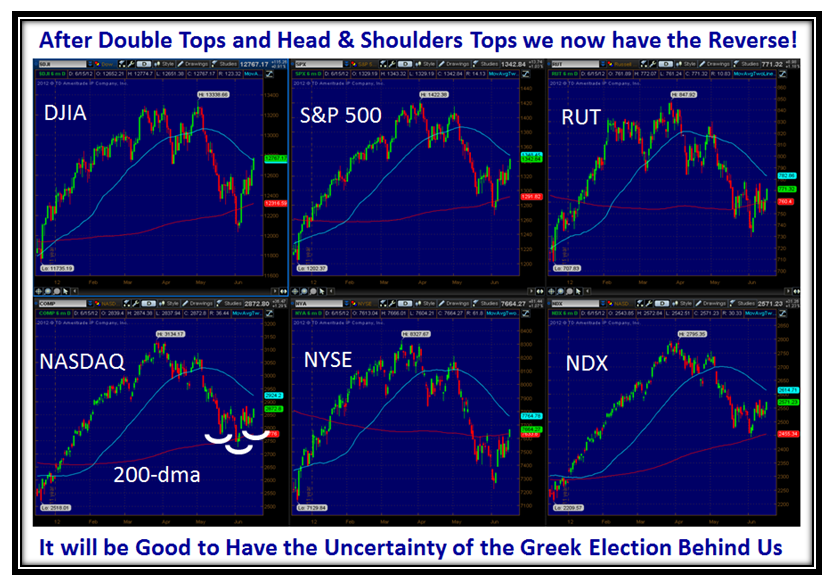 At long last after three "Fakey's" where the %B of the S&P 1500 has been turned back from reaching back up to the "Top Buckets" with strength for most of last week: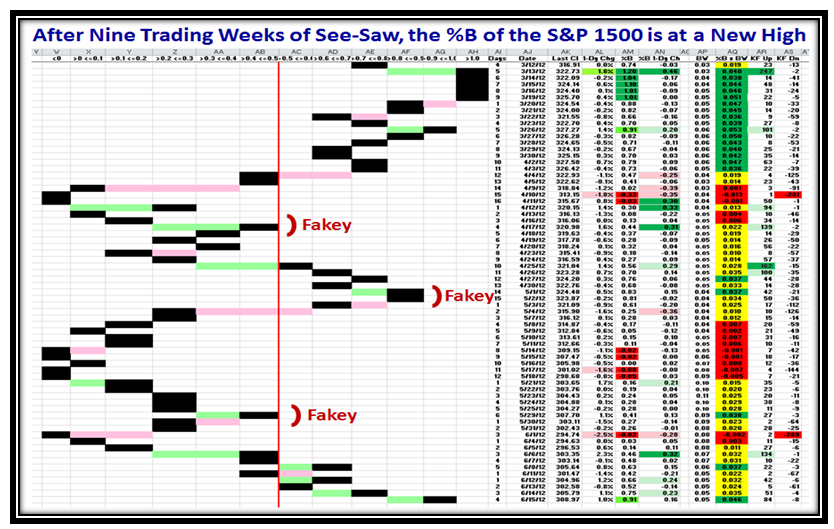 We immediately see signs of life in Grandma's Pies after being in the doldrums for nine trading weeks: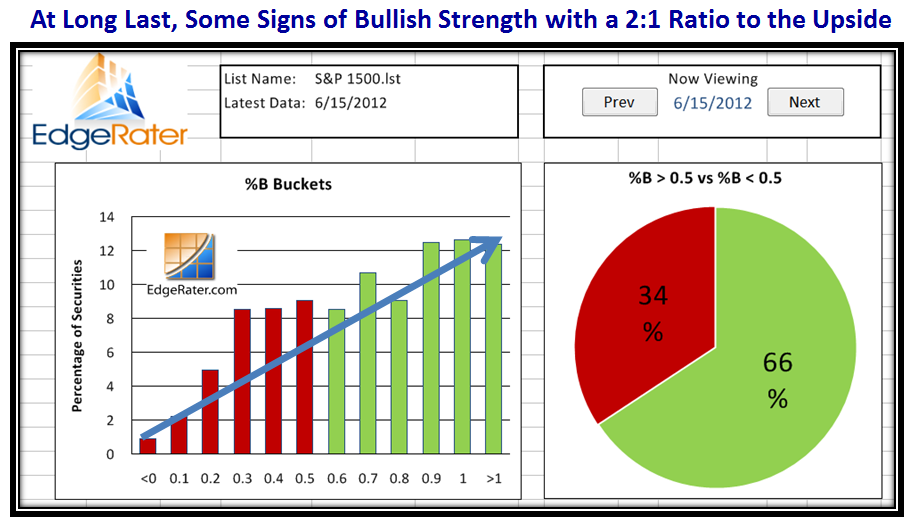 This next chart is a relatively new one which is proving to be worthwhile.  I have focused on the 2x and 3x Bear ETFs for the last few Blog Notes to gain insight for an early clue as to which way the wind is blowing.  As you would expect, when the news is in favor of the Bears as it has been recently with four bad jobs reports in as many months, the %B spikes into High Ground Territory.  Conversely, when the Bulls are in control, %B for these ETFs drops BELOW the Bandwidth, and there it is shown ringed after Friday's action: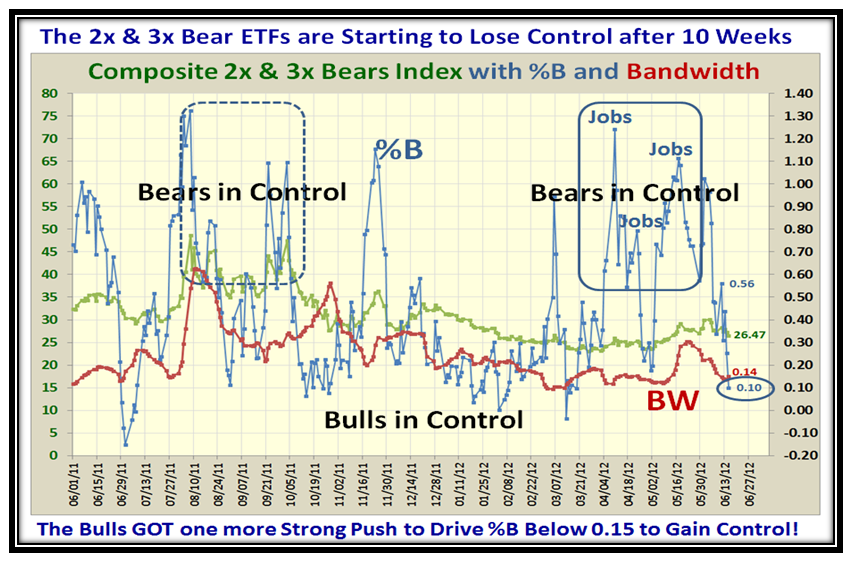 Unless there  is a major negative surprise, the picture suggests that the Market will remain positive with %B holding below the Bandwidth red line for a while.  Below we have the twin picture that shows the Bears have lost ground with two days in the red: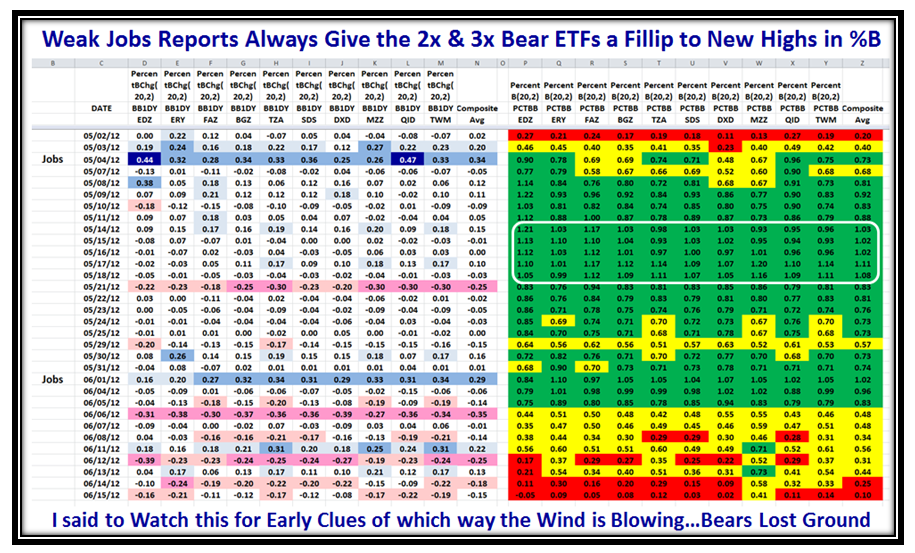 Well that's it for now as I turn my full attention to the U.S. Open where Tiger has faded and all my US and International golf friends are glued to the screen cheering on their respective favorites to win.
Best Regards,
Ian.